Half Of A Facelift?
Half Of A Facelift?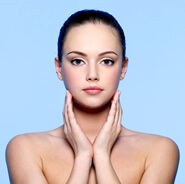 What do you do if you are not old enough to have a facelift but you are getting a double chin? If you are having this problem you are not alone. There are many people who due to genetic predisposition or excess weight develop an early 'double chin'. Unfortunately, even if these people loose weight, the problem with the excess skin may not go away completely. The angle between the neck and the chin is extremely important in the appearance of an individual. It gives the neck the youthful and graceful line. Without it, even a 25 year old person could look old.
The good news is that the surgery for the correction of this problem is quite easy. The neck lift is literally half of a facelift. It addresses the lower face and neck. The incisions are well hidden by the natural folds of the face and the hair. Excess fat can be excised or liposuctioned through small incisions. The muscles of the neck that are cause the obtuse angle can be repositioned to make the neck more youthful. The excess skin is pulled back and trimmed.
In summary if you have double chin or loose neck skin but everything else in your face is looking pretty good, you don't have to wait. You can do your neck now, and enjoy a more youthful look for many years before you are ready for a facelift.